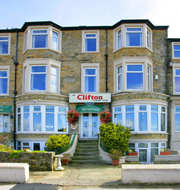 The Clifton Hotel
43-46 Marine Road West
Morecambe
Lancashire
LA3 1BZ
Tel: +44 (0)1524 411 573
Fax: +44 (0)1524 874 343

As the proprietors of the Clifton Bed & Breakfast, we give you a warm welcome from the small and peaceful town of Morecambe.
Morecambe is a small seaside town in the Lancashire county on the west coast of Northern England, with many of the big cities nearby and the hugely beautiful Lake District. Our family run Bed & Breakfast is situated on the west promenade, overlooking the splendid West End Gardens and Morecambe bay with the beautiful backdrop of the Lakeland mountains in the horizon. We have five golf courses within 10 miles of the hotel
We, Paul and Lydia Kim, will personally cater for all your holiday needs and will constantly strive to meet high standards required by all our guests. The Clifton Bed & Breakfast is renowned for its excellent wholesome traditional food and the warm friendly atmosphere allowing all our guests to relax in comfortable surroundings. Bed and breakfast accommodation is available throughout the year, and delicious evening meals can also be provided on request.
We have a total of 45 bedrooms which are made up of:
9 Single Rooms 10 Twin Rooms 18 Double Rooms 7 Family Rooms
All our rooms at the Clifton are en-suite including shower facilities and many have spectacular sea-views.
Flat screen TVs, complimentary tea & coffee makers and toiletries all come as standard to each of our tastefully decorated rooms.
Our dining room is very spacious and one can enjoy glorious panoramic views of the bay. We can accommodate up to 90 people and guests with special dietary requirements can be catered with prior notice.
Full English breakfast is served between 8.15 and 9.00am