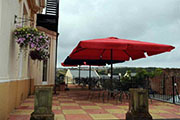 Chase Hotel
Corkickle
Whitehaven
Cumbria
England
CA28 8AA
Tel: +44 (0)1946 693656
Fax: +44 (0)1946 590807

The Chase Hotel, set close to the beauty of the English Lakes, is a Georgian hotel built in 1840 in the attractive and historic Cumbrian town of Whitehaven .
Set in two acres of landscaped gardens, The Chase Hotel is quiet and relaxing despite the close proximity to the town centre. The period frontage sets a standard of quality and elegance which is continued throughout the hotel. A warm and friendly welcome is extended to everyone, whether you are with us on a long or short stay, on business or pleasure or simply just passing by, our friendly staff will do their utmost to make your stay enjoyable.
We are situated in the ideal location for Seascale Golf Club and to explore the magnificent Cumbrian coast, the wonders of the Lake District, and the attractions that Whitehaven has to offer. After a day out playing golf, relax at The Chase, with great food, a quiet drink and enjoy the calming atmosphere.
The lounge area with our well stocked bar is the ideal place to relax with a bar meal, hot or cold drink, or why not unwind on our outdoor terrace.
Our restaurant provides the perfect setting for all occasions. Both bright and spacious, the restaurant offers a pleasant atmosphere, whether it be for breakfast, lunch or dinner, while our fantastic menu is sure to please everyones pallate.
We have 21 rooms: 13 Double Rooms, 4 Twins Rooms & 6 Single Rooms
All of our bedrooms contain En-Suite shower over bath, Flat Screen TV (inc Sky sports), free Wi-Fi access, tea and coffee (inc biscuits), hairdryer and fresh towels and individually controlled central heating.
We can cater for small to medium sized functions including weddings, christenings and funerals. The function Room is available at very reasonable rates and the outdoor spaces, particularly the patio lend themslelves to use during the summer months. The bar and restaurant areas are closed on a Sunday afternoon after 2 o'clock Unless any group bookings make request that the bar area can be open.