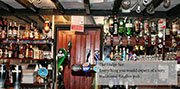 Castle Lodge Hotel
Wilton
Ross-on-Wye
Herefordshire
HR9 6AD
Tel: +44 (0)1989 562234
Fax: +44 (0)1989 768322
Map/Directions
Visit our website to book direct
Email us
Ideally situated just 5 miles from South Herefordshire Golf Club & Ross on Wye Golf Club. There are ten golf courses within 15 miles of the hotel.
Each of our ten rooms bears the name of one of the many local castles which, in medieval times, were the hub of their community's life, governance and commerce.
While all of our local castles lie spent and windswept, the narratives associated with their many ancient legends and myths still resonate for many visitors who, like us, continue to feast on the richness of their history and physical beauty.
Our chef uses only the freshest ingredients, all of which he sources from as many local suppliers as possible (all except fish of course, which is delivered fresh every week from Cornwall).
Herefordshire's market gardeners and farmers are renowned for the quality and variety of their seasonal produce. In fact, our local produce is so wonderful our chef is able to change his menus in line with the seasons.
Dinner bookings can be made between 6 and 9pm on a Tuesday to Saturday.
Light bites and coffee, or tea, is available during the day in our coffee lounge, garden patio or pub.
We serve a roast lunch between noon and 3pm on Sundays.
The Lodge bar has the sort of warm and informal atmosphere that people associate with a traditional English country pub.
Our bar offers a full range of real ales, stouts and lagers, fine wines sherries and ports, cocktails, spirits and soft drinks. And we do bar snacks, too.
Ample free parking, even for large vehicles.