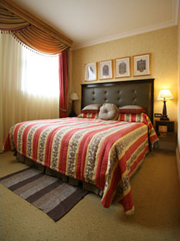 Castle House
Castle Street
Hereford
England
HR1 2NW
Tel: +44 (0)1432 356321
Fax: +44 (0)1432 365909

Hereford's Boutique Townhouse Hotel.
Tucked away in the most elegant quarter of Hereford and within two minutes walk of the magnificent Hereford Cathedral, Castle House is a unique, privately-owned boutique townhouse hotel. The most luxurious and prestigious hotel in Hereford.
With its Georgian architecture, 24 individually-themed suites and bedrooms, and a terraced garden leading down to the tranquil Castle Moat, Castle House has a very special relaxed and informal atmosphere. Eight of our rooms are new and situated just moments from the main hotel at No.25 Castle Street. The Castle Restaurant, amongst the finest restaurants in Herefordshire, and Castle Bistro offer the best dining in Hereford and are the domain of one of England's premier female chefs, Claire Nicholls, who sources her ingredients from local farmers and artisan producers from the Herefordshire Marches, including our own Ballingham Farm.
With its civil wedding licence, Castle House is the perfect base for your Hereford wedding and perfect for leisure breaks in Hereford and leisure breaks in the Wye Valley. From here you can explore the lovely city of Hereford with its world famous Mappa Mundi and Chain Library, and the unspoilt Herefordshire and Wye Valley countryside beyond. Come and discover them and make the most of our special offers and great accommodation deals.
All our rooms overlook the garden and Castle Moat, or quiet Castle Street, with its fine Georgian buildings, that leads up to the Cathedral. One of our spacious Suites, Room 1, has been specially adapted for less-able guests and has its own ramped entrance, walk-in shower and fixed grab rails, king-size bed, wide doorways and French doors into the garden.
Let us know what you'd like to find in your fridge when you arrive and we'll arrange it for you, and anything else we can do to make sure you have a great stay at Castle House.
Whether you eat in our à la carte restaurant from Claire's seasonally-changing menu, or have a light lunch in our Castle Bistro, you'll experience the skill and innovation of Claire's kitchen team.
The Castle Bistro is open from 7am until 10pm for morning coffee and pastries to enjoy with the papers, proper afternoon tea and cocktails, and a Bistro-style dinner menu, all of which can be served on our peaceful terrace when the sun shines.You can also enjoy a drink or afternoon tea in our lounge.