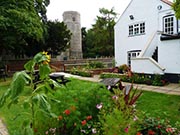 The Blue Boar Inn
31 Station Road
Great Ryburgh
Fakenham
Norfolk
NR21 0DX
Tel: +44 (0)1328 829212

Looking for a comfortable and affordable place to stay in North Norfolk?
Situated in the charming Norfolk village of Great Ryburgh, near Fakenham, this traditional 17th century English country inn boasts low-beamed ceilings, an impressive inglenook fireplace in the main bar and offers a warm welcome to both regulars and new customers alike.
The Blue Boar Inn is ideally placed just 4 miles from Fakenham Golf Club. Perfect if you're looking for a convenient base to explore the tranquil beauty of North Norfolk, the medieval wonders of the city of Norwich or the rest of Nelson's own historic county.
We have a total of five reasonably priced, cosy cottage-style rooms, all with en-suite facilities. All of our comfortably appointed rooms have:A flat-screen TV with remote.
Tea & coffee making facilities.
Hairdryer.
Free Wi-Fi Internet access.
A relaxed beer garden
Ample car parking
An enclosed children's play area
Free Wi-Fi Internet access for residents
At the Blue Boar Inn we don't like to shout about how good our freshly prepared food is – we let our many delighted customers do that for us.
Using only the very best of locally sourced ingredients our Head Chef, James, is proud to showcase the very best that his home county has to offer.
However, 30 years experience gained all over the UK, Bermuda and Australia means that James' menus are anything but provincial.
From an intimate meal for two, a party of up to fifty or anything in between you can be sure of excellent food at The Blue Boar Inn.
We offer Vegetarian dishes and Gluten Free.
Although we are usually closed at lunchtimes, we can accommodate lunch parties by arrangements.