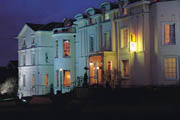 Best Western The Banbury House Hotel
Banbury
Oxfordshire
England
OX16 9AH
Tel: +44 (0)1295 225381

The warmest of welcomes awaits you at the Best Western Banbury House Hotel. Nestling in the heart of the historic town of Banbury, this magnificent Georgian property seamlessly combines traditional elegance and grace with all the convenience of modern amenities.
The result is a hotel which truly caters for the individual needs of its every guest. From the tastefully appointed guestrooms and suites to the enchanting ambience of the well-renowned restaurant, the Banbury House Hotel will not fail to delight you.
Whether visiting for business or leisure, we aim to ensure that your stay provides the ultimate in comfort, relaxation and pleasure.