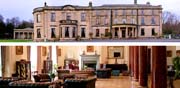 Beamish Hall Country House Hotel
Beamish
Stanley
County Durham
England
DH9 0YB
Tel: +44 (0)1207 233 733

Are you looking for a golf break away from the hustle and bustle of city life? Located within the heart of the north east of England's countryside, Beamish Park Golf Course is the ideal escape for golfers of all ages and abilities.
The 18 hole parkland course will test the accomplished golfer whilst still proving an enjoyable challenge to beginners.
Guests at Beamish Hall are perfectly placed to enjoy the facilities of Beamish Park Golf Club which is the oldest established golf club in the district just opposite Beamish Hall.
We would be delighted to plan, organise and run a fantastic day for you and your guests.
Beamish Hall is a special place, perfect for the most special of occasions.
The grandeur, character and glamour of this beautiful 14th Century house can be adapted to lend itself to hosting parties of 8 guests in our elegant State room and up to 400 guests in our magnificent Winter Garden.
Upon entering Beamish Hall you are presented with a beautiful, light and spacious reception area.
To your left and to your right you will find welcoming casual seating in burgundy and gold and as you venture further you will see leather Chesterfields, winged chairs and ornate fireplaces.
A sweeping staircase will entice you into the Hall
There is a dramatic single sweeping staircase to the right of the reception area, covered with the Shafto crest which is woven into the lush carpeting.
Beamish Hall Country House Hotel now has 36 luxury appointed bedrooms along with a very stylish luxury Apartment.
Each bedroom is furnished with genuine antiques which have been sourced by the Hotel as part of it's quest to ensure that an overnight stay at Beamish is a very special event.
The rooms themselves reflect the classic charm of the building, whilst the bathrooms are the ultimate in state-of-the-art technology.
If you wish to spoil the one you love then there are several rooms offering four poster beds and double Jacuzzi baths giving you every modern luxury you can think of.
The Hall offers 3 types of accommodation, Classic, Deluxe & Premier giving you a choice to suit both your occasion and budget.