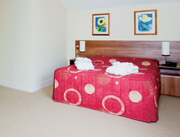 Avon Ri
Blessington Lakeshore
Burgage
Blessington
Co. Wicklow
Ireland

Tel: +353 (0)45 900 670
Fax: +353 (0)45 857 756

Whether you are planning a golfing holiday, corporate golfing or golf society event in Ireland, Avon Rí offers an unforgettable experience 'that's different' - combining ideal purpose-built townhouse accommodation with self-catering facilities, an excellent bar with rooftop terrace plus restaurant both overlooking Blessington Lakes, a renowned Adventure Centre with an extensive selection of water and land based activities, plus indoor pool & gym all located in a breathtaking lakeshore setting at the foot of the Wicklow Mountains.
Avon Rí is a corporate and leisure resort stunningly situated looking out over the Blessington Lakes in County Wicklow, and only 45 minutes drive from Dublin City Centre & Dublin Airport. Whether you're relaxing in the hot tub by the pool admiring the Wicklow mountains, enjoying good food and wine (or a Guinness !) on one of the outside terraces overlooking the lakes, relaxing in one of our luxury townhouses, or partaking in one of the numerous outdoor activities, you will be amazed at what you have discovered. Adding to its appeal, Avon Rí is also very convenient to some of Ireland's most popular tourist attractions,famous racecourses including Punchestown and The Curragh, as well ofcourse some excellent local & championship golf courses, such as Lisheen Springs, Tulfarris, The K Club, Palmerstown & Carton House
Our houses are designed to make you feel more at home than you ever can in a hotel – free to 'make yourself at home' in spacious, light-filled rooms, perfect for family and friends to really enjoy a carefree break. On the other hand, our clubhouse aims to bring you all the self-contained pampering of a five-star hotel: fine restaurant, coffee bar, gym, pool, Jacuzzi (looking out over the lake), sauna, steam room.
On top of all this, we can offer you the chance to participate in a wide range of sports and outdoor pursuits, supervised by a professional team to ensure you are safe and even learning! From tennis to clay pigeon shooting, from canoeing to sailing, from hiking to mountain biking – we'd be delighted to introduce you to something new or let you push yourself further in something familiar.
Accommodation at Avon Rí in County Wicklow consists of 39 luxury self catering townhouses with stunning views of either Blessington Lake or the Wicklow countryside. Each self-catering townhouse comprises 3 large bedrooms with en-suite facilities, and a magnificent open-plan kitchen, dining and living room with fireplace.
The townhouses accommodate up to six people each and are equipped to a very high standard, with all the appliances of a private home (cable TV, washing machine, cooker, microwave and dishwasher) to make sure guests have everything they need for their stay while at Avon Rí. Each townhouse is extremely spacious and has been plushly furnished throughout.
Avon Rí clubhouse consists of the main reception lobby, Lakeview restaurant (with deck overlooking Blessington and the Wicklow Countryside), the swimming pool facilities, and the reception for all the outdoor activities. Upstairs are the Lakeview Bar & Rooftop Terrace, the gym room, and a number of function and meeting rooms for occasions and events of all types.
Our Lakeview Bar which serves excellent bar food throughout the day , it is also the perfect place to relax for coffee or drink, and on a fine day the outdoor decks overlooking the Blessington Lakes and wicklow countryside add an unforgettable dimension to the experience.